Ira Singhal Biography Wiki
Union Public Service Commission ( UPSC) has released the result of Civil Services Examination 2014 on its official website www.upsc.gov.in. and Ira Singhal of Delhi is at the top of the list followed by Renu Raj, Nidhi Gupta, Vandana Rao and Suharsha Bhagat. All the candidates who are organising the top queue are undoubtedly the cream of our country but Ira is somehow different from others as being a handicapped, proved her power and level of the toil she can handle to crack such a prestigious examination. Her patience and internal strength are unbelievable. She is now a figure of motivation for each aspiring candidates. This is really a matter of full joy for her and family but their parents are little mute this time since they are confused that whether she will get a posting or not as Miss Singhal has passed the Indian Revenue services ( IRS examination ) in the year 2010 but due to her physical disabilities, she was first denied to be placed by Revenue department, and once it agreed, the DOPT ( Department of Personnel and Training ) refused to do so. Let's hope for the best this time. Finally, she filed a case against these authorities which has been settled after a long legal battle goes until the year 2014. Actually, Ira is suffering from Scoliosis which is a spine-related disorder but finally, she managed to defeat her physical disability along with the toughness of examination just in a single shot.
Ira Singhal Early Life And Background
The 29 years old Ira Singhal was born in Delhi to Rajendra and Anita Singhal. He did her schooling from an Army Public School and then studied Engineering from NSIT ( Netaji Subhas Institute of Technology ) and MBA from FMS Delhi, India. And she then took the Civil Service examination in the general category. She is currently working as an Assistant Commissioner in Indian Revenue services (customs and central excise).
Ira Singhal Personal Profile And Biodata
Name -
Ira Singhal
Father Name - Rajendra Singhal
Mother Name - Anita Singhal
Height - 4 feet and 5 inches ( Estimated )
Profession - Assistant Commissioner of Indian Revenue Services ( Customs and Central Excise, Indian Government )
Place of Birth - New Delhi
Age - 29 Years ( Approx )
Education - Army Public School, NSIT, and FMS
UPSC Civil Service Examination 2014, Toppers, Renu Raj, Nidhi Gupta, Vandana Rao and Suharsha Bhagat Details
Renu Raj, who is the second topper of UPSC Civil Services Examination 2014 is a doctor from Kerala followed by Nidhi Gupta, also an Indian Revenue Service officer from Delhi. The fourth topper Vandana Rao is also from Delhi while Suharsha Bhagat, an IRS (Income Tax cadre) officer, who hails from Bihar, was fifth in the examination. An official said that "This is the first-ever time that a physically handicapped candidate has topped the civil services exam". As per the sources, A total of 1,364 posts is to be filled through the civil services examination. There are 254 candidates in the waiting list.
Renu Raj with her Parents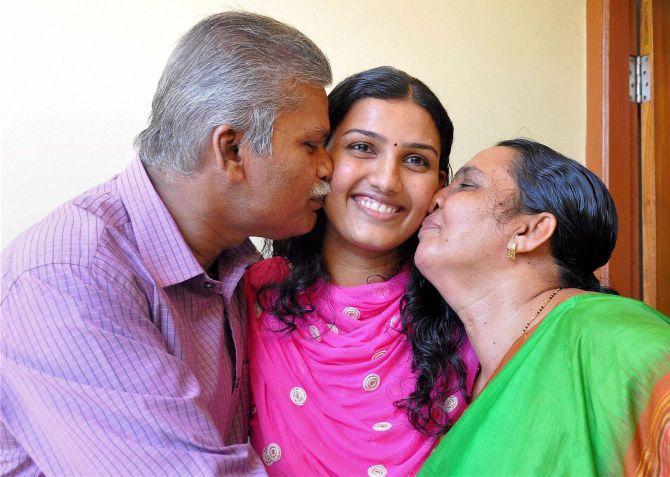 Pics of Nidhi Gupta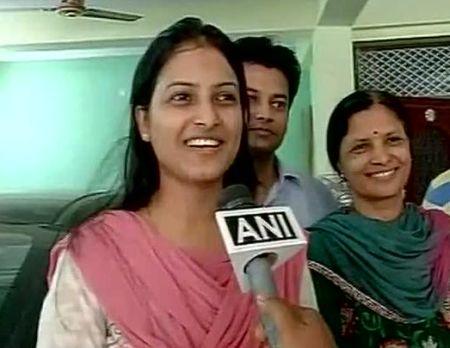 Pics/ Images of Ira Singhal
Other Toppers of UPSC Civil Services 2014 Images/Pics