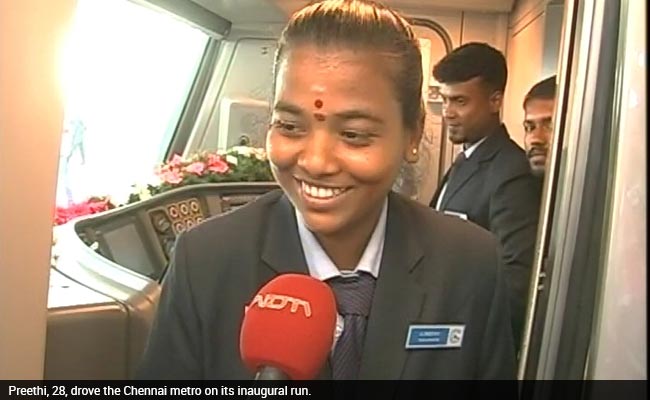 Preeti, Chennai Metro Driver, Biography Wiki
The 28 years old Preeti along with her fellows who pressed the button and drove the first ever Metro Train of Chennai ( Tamil Nadu ) as the service is flagged off from Alandur station by Chief Minister Jayalalitha. Honourable CM was not physically present there but was connected through video conferencing from her office at around 12:15 PM to inaugurated it. Preethi drove the train out of the Alandur station. For this particular moment, Preeti has gone through with a year and half of training. She uttered in front of media that "I feel happy and proud," Preethi told NDTV, informing that she drives at a speed of 80 km and drives "safe." Her mother A Shanti was too excited for this moment and said that "I really do. Earlier we thought it was too dangerous as she has to take care of more than 300 passengers. Now I am proud. She is trained,"
Preeti is a Diploma holder in Engineering who quit her job to apply for Chennai Metro. She was the first women to get selected From the Alandur metro station, Preethi drove the train to Koyambedu, covering the 10 km stretch in 18 minutes. Right now, the trains will be of four coaches with capacity of around 1,276 passengers. Two corridors will cover almost 45 Kms which is partly underground and partly elevated with the cost of RS 16,500 crores as estimated. By the end of this year, authority is likely to come up with second phases of their plan.

Preeti Chennai Metro Female Driver Pics/Images