Mohit Goel Biography And Wiki
Mohit Goel
a.k.a
Cutemohit of Facebook
is the name and the only brain behind world's cheapest smart mobile phone
Freedom 251
launched on 19th February 2016. Launching of it has really created a huge buzz and benchmark in the mobile industry. Mohit is the founder and director of a Noida ( Uttar Pradesh, India ) based company called
"Ringing Bell Pvt Limited"
with his wife
Dhaarna,
who is the CEO of the company. It is been reported that after the launching of Freedom 251 mobile phone's website http://freedom251.com got crashed within a very few span of time due to an uncontrolled flood of traffic. We came to know from sources that, there were almost 6 lakhs users active at a time just to make an online booking of it. Such heavy flood of users brought the website to be hanged and crashed. The price of this mobile phone is just Rs 251/- but the online bookings are closed right now because of its heavy demands.
Mohit Goel Early Life And Background
Mohit Goel was born and brought up in a very small village of Garhipukhta in Shamli district, Uttar Pradesh (India) and completed his schooling from Saint RC Convent School and the graduation at Amity University, Noida. His father Rajesh Goel owns a small grocery store and lent him some loan since Mohit urged him to start a company after completion his management studies. On getting this money, he initiated the "Ringing Bell Pvt Limited" and finally arrived with the idea of Freedom 251 that made such a revolution in the fields of mobile phone industry. When Freedom 251 launching became a big hit, his father still unaware of the fuss and trying to understand that what's actually going on. Anyway's, he's really a proud father to have a son like this who did the extraordinary work of proving the world, the best cheapest ever mobile phone to India that can be affordable by any genre or category of person.
Mohit Goel Marriage/Spouse/Wife
Mohit has recently got engaged with Dhaarna, who is the CEO of Ringing Bells. She also lives in Noida ( Uttar Pradesh ) and studied at Spectrum Institute of Design and Architecture.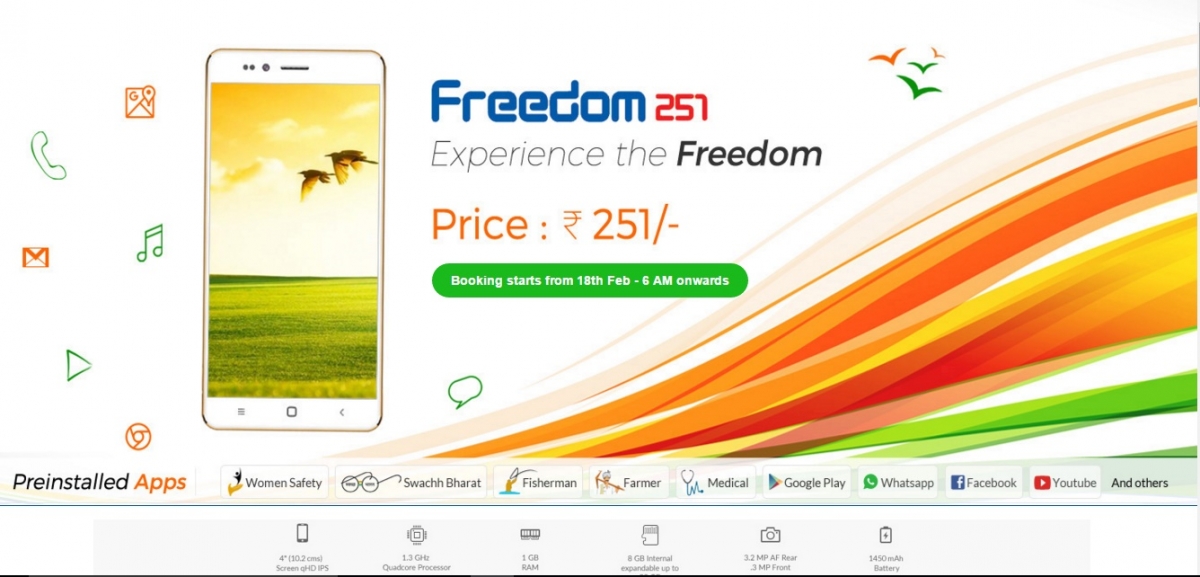 Mohit Goel And His Wife Pics/Images
Freedom 251 Buy freedom251.com
Freedom 251 Mobile Ringing Bell Pvt. Limited
Ringing Bell company was founded in the year 2015 and is the fastest growing mobile phone company in Noida and India as well. This company has now over 650 service centre all across the country. The company has also got its customer service number - 0120-4001000, 4200470, 6619580.
Freedom 251 Mobile Phone Specifications and Configurations
Headphones - 3.5mm
Mobile Display - 4.00-inch Touchscreen
Capacity of Processor - 1.3GHz
Storage Capacity - 8GB
Operating System - Android 5.1
RAM - 1GB
Proximity Sensor - Yes
Expandable storage upto - microSD (32GB)
Front Camera - 0.3 Megapixel
Rear Camera
- 3.2 Megapixel
Battery capacity - 1450mAh
Wi-Fi Enabled - Yes
FM Radio - Yes
Phone access - GSM
Phone Resolution - 540x960 pixels